3 Channels(2+1) (Up to 6 Channels)
The AC-300 has two built in lenses (road and in-cab) and supports  additional  cameras to monitor additional areas such as rear view, fuel tanks and cargo areas. A range of additional cameras are available to choose from.
Inputs and Outputs
The AC-300 is able to send and receive digital I/O triggers or data via the micro USB port. Analogue I/O's are also supported. We offer development and integration services for you to take full advantage of this feature.
Video Out
The AC-300 can output real time video to a display inside the vehicle, providing added awareness to the driver. Single and multi-channel views available, auto switch to reverse channel.
Low Maintenance
End users all benefit from a design that puts emphasis on reliability and user friendliness. The AC-300 is simple to configure, easy to install and efficient to maintain.
LBP and Smart Power
The Low Battery Protection feature ensures that the AC-300 will not drain the vehicle battery even when configured as "always on". Smart Power tools allow for numerous configurations according to the status of the ignition and power source.
Encryption and Security
All stored and transmitted data is secured through encryption and can only be accessed through our software platform when the user can provide the appropriate credentials.
The Autocam AC-300 All-in-1 Fleet Video Solution:
• Live streaming
• Mobile Network Drive Recorder
• Works with AIR FMS cloud
• Supports 3G/4G/Wi-Fi/Tethering
• Supports an additional 3rd channel
• Anti-Tamper design
• Revolutionary tracking and fleet management
• Telemetry is accompanied by video and other imagery
• Realtime track and trace, realtime video streaming
• Easily installed, low maintenance and reliable
• Optimised for large-scale deployment
• 3 minute Snapshots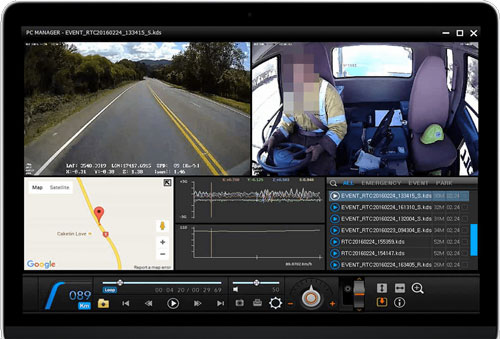 The Autocam AC-300 is our premium fleet video solution. Thoughtfully engineered to overcome stubborn challenges in the fleet management space and to excel when operating in even the harshest environments.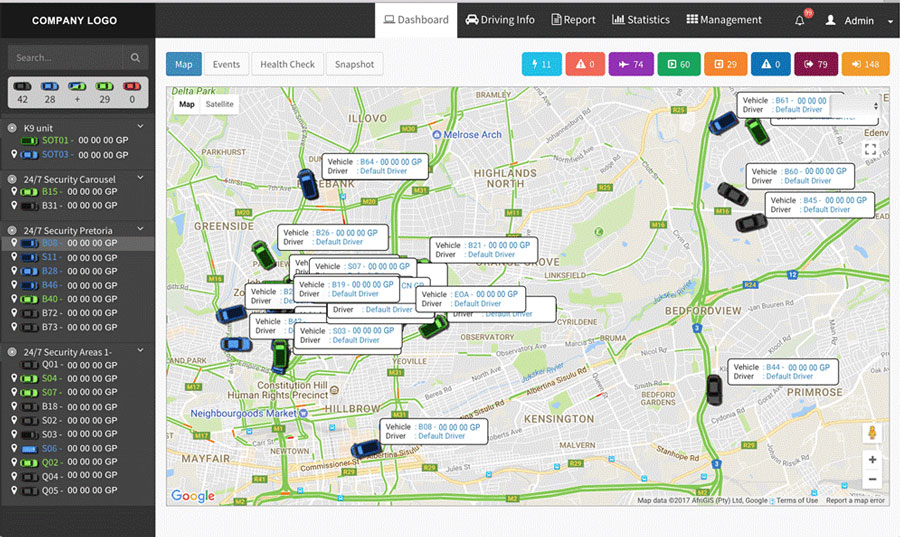 Benefits:
Live Streaming – Login live and view in cab and additional cameras
Actively coaches drivers through computer generated TTS or pre-recorded messages on:

Fatigue Driving – Advising when to take a rest and reporting failure to comply.
Tampering – The driver is warned immediately if he covers the system.
3-Axis Accel – Maximum threshold warnings for Acceleration & Braking .
Speeding – Warning drivers when they breach the limit but only report on tolerance violations.

Future proof design – The system's customizability allows you to upgrade features like storage, GSM, WiFi & Bluetooth modems, additional cameras, GPS antenna and displays as technology improves.
Snapshots are used as in index so you always know what is happening with your fleet
Dual camera with Full High Definition recording with lock bracket ensuring cameras cannot be moved.
Expandable to add additional cameras
Second-by-second telemetry reporting
Continuous recording even with ignition off (Customizable).
Built in Emergency button with external option for covert triggering.
Two slots for removable micro SDHC cards. Each slot can accommodate up to 128GB locked into device with lock bracket preventing unauthorized access.
Customizable software so that only pertinent events are reported to client ensuring noise filtering including fatigue driving notification, location based speed warnings, camera tamper alerting, escalated braking and acceleration events and many more.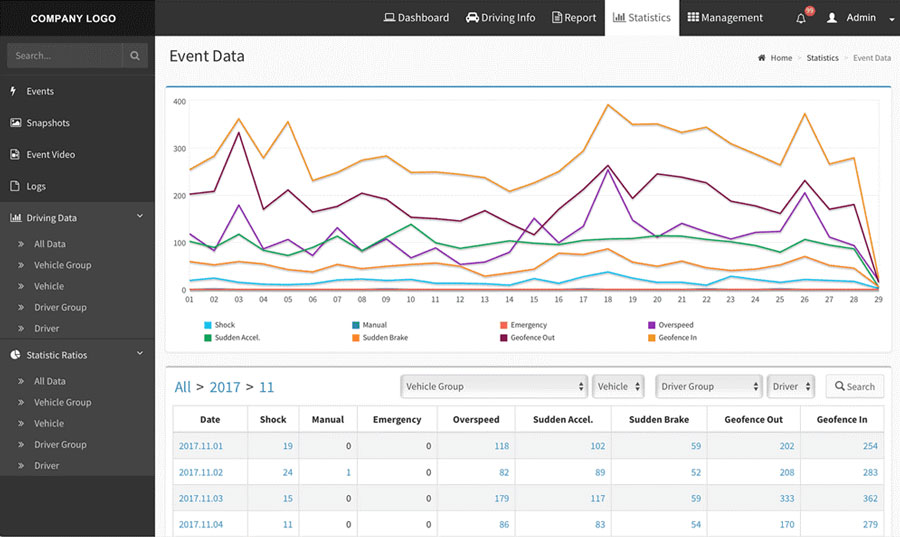 Web based software which means it will work anywhere, anytime.